Posts Tagged '#blogging'
By one of those little coincidences that spring up in our lives, it was exactly a year ago today that I marked my 300th post. A year on, and this is post number 350. That has a nice balance to it, I think. Last year's effort was quite a long piece, as in my usual rambling way it covered a range of topics: why I began blogging in the first place; why mental health features a lot in my posts; why music is important to me and also features often. And a few other things too. To celebrate still being here I thought I'd update from where I left off last year, and for those who haven't seen it before I'm also attaching last year's celebration too.
The most obvious thing to me is how surprised I am that this is my 50th post in the past year. I'm neither regular or prolific, but somehow I've kept up that annual average. Considering that I've twice taken part in National Blog Posting Month, accounting for 60 posts, you can probably see why I'm surprised! The really pleasing development for me is that I can now say that my top four posts (not just three like last year) are mental health ones, with the piece I did for  World Mental Health Day 2018 leaping in at no.2. This one still gets regular views and likes, and it's also the post that attracts most spam: go figure!
To avoid this becoming an even longer post than it already is, I'll just add that all of the thanks I gave last year to those of you who read, like and comment on this rubbish are reiterated now. There is a value to me in doing this and that is: you! And I'll sign off with a small plug for my Facebook page, which you can find by clicking the icon to the right. I've mostly posted my #SongOfTheDay on there, but am intending to expand the range of content in line with my original aspirations for the page. I'll get there in the end, bear with me!
Thanks, as always, for reading 😊
And, as promised, here's last year's piece:
300 NOT OUT: A RETROSPECTIVE
Recently I mentioned that I was planning something to mark my 300th post. Well, this is number 300, and the more observant among you will have noticed that it has been more than a month since number 299. The gap is much longer than I had intended, partly due to my natural indolence and a bit of illness, but more the result of the several false starts I made on the planned post. Finally, I've accepted reality: it just wasn't working, so I've consigned it to the WordPress equivalent of the round metal file on the floor. I covered some of this ground in my recent-ish post 69 Months Later, but I've been looking back over what I have posted over the years, and post number 300 seems as good a time as any for a fuller reflection on what I've done, whilst using that as a stepping stone to the future. So…. here goes!
I've often restated why I began this blog so, at the risk of boring you, I'll do a brief recap now to start off this retrospective (you have my permission to skip this bit if you've heard it before!). I was diagnosed in late 2011 with depression, and was off work for more than nine months. When I went back I was invited to take a course of Cognitive Behavioural Therapy (CBT) and, as part of this, I did a number of written exercises which got me thinking more than I had ever done before about me, my life, and what was important to me. After all, I was only 59 so it wasn't too late to start! At the suggestion of my counsellor, who described my writing as 'inspiring,' some of these became the basis for my first few posts. These can be found under  'My Story' in the menu above, and if you haven't read them before I think they're worth a few minutes of your time if you want to know where I'm coming from.
The point of doing this wasn't to wallow in self pity, though: what would have been the value in that? I started blogging because I had realised how important our mental health and well-being is to us, and hoped that by sharing my own experience I could encourage others who might also be having a hard time to see that they weren't alone. The response was encouraging, so I decided to keep going. Mental health is still, and will always be, important for me and it is a theme to which I return even if I've rambled off into the distance for many of my posts.
I think you can learn a lot about blogs from the category descriptions their authors use. I've tinkered a bit with my categories over the years, both to tighten up what was in danger of becoming an amorphous mass, and also to (hopefully) make it easier for readers to find their way around. The current menu structure has been largely unchanged for quite a while now: it works for me, and reflects what I'm trying to do. Dip in to some, if you haven't before. You'll see that some just take you to the most recent post in that category, while others give you a sub-menu of posts – basically, these are the shorter menus (some were getting ridiculously long!).
Over the past couple of years the number of people following my blog has increased tremendously. Many of you won't have seen some of my earlier posts before, and I've mined my back catalogue a lot to share some of these. I usually add a new commentary, updating what I had previously said, and I hope you have enjoyed some of these. It should go without saying that any post which has been given this treatment is one that I enjoyed writing and revisiting, and sharing them again has the added benefit of sparing me from writing something new! As this is a retrospective, I thought I'd highlight a few favourite posts – both mine and those which appear to have been popular in others' eyes.
Rather surprisingly, perhaps, when I went through my back catalogue I found quite a few posts that I hadn't recycled. Some of these, such as those I produced in the two years that I participated in November's National Blog Posting Month – post every day, watch the quality fall off a cliff – were probably best left alone, and I've long since removed the menu link for them. Masochists can always find them via the Archives tab on the right, and looking for the Novembers of 2014 and 2015! One early post which I rather like was Dazed And Confused, from August 2013, in which I had one of my little rants: the target for this was marketing, which is a worthy subject for a moan! Another post from 2013 has a great deal of meaning for me. In those days I often responded to the daily prompt offered by WordPress, back when these were meaningful thoughts, rather than the single word option they went for instead – which was responsible for more pointless doggerel appearing in my email notifications than I could ever have wished for. No surprise to me that these prompts were eventually discontinued. In this post, My Mind's Eye, I was looking ahead to my imminent retirement and sharing the symbolism of the London Eye for what I wanted to do with my future. My two wonderful daughters took me out for a special day to celebrate my 60th birthday and retirement – I must have mentioned my wish to go on the Eye, as that was part of my day! For some reason it took me a while to write about that day, but I eventually got round to it three years later in A Celebration – another of my favourite posts.
Having begun this blog to post about mental health, I'm rather proud of the fact that my three posts which have achieved the most 'likes' from readers are all mental health posts: see the 'Top Posts & Pages' links to the right. As I've said before, I don't have a huge readership for this blog, and a typical post is likely to pick up around 20 to 25 likes: these three posts are all comfortably beyond that and the top one, Mental Health Matters, has 140 likes. For some of you that is nothing significant but for me it is astonishing! It was written in response to a report in the paper, about the way that the commissioning bodies for health services here in the UK were diverting funds which were supposedly ringfenced for mental health treatments, using them instead for other services. It seems that I wasn't alone in finding this outrageous! Those top posts can all be easily reached – just click on the titles – so please feel free to take a look at any that you may not have seen previously. Mental health has been a recurrent theme for me. I used to do a regular series of 'Dates To Note' which were usually about health and social care subjects. Mental health featured often in these posts, which have their own menu entry above – as, of course, does mental health itself. If you're interested, you'll find my most recent posts – from May this year – under both menu headings. One of the aspects of mental health that has exercised me on several occasions is the way that it is stigmatised. This post from 2013 is an early one of this sort, and I have used that as the basis both for a reblog and a reworked piece. Sadly, this is still an issue now and I fear there may need to be another post of this kind when the time comes this year. As I said, mental health is still an important issue for me, so expect to see more about it in future.
Another important subject for me is music, which has played a central role in my life since I was a child. I have absolutely no musical talent whatsoever, but I couldn't live without music. It gets its own special mention in the tagline for the blog, and the blog's title is that of one of my favourite songs. As well as countless sharings of songs at random times, I also have my occasional series of #SaturdaySongs where, by and large, I share the story of why a song is important to me. The menu gives you easy access to them all, but probably the most important piece for me which relates to a song isn't in that series: I Hope You Dance, which I wrote to welcome the birth of my first grandchild, has that honour. I'm grateful that so many of you have hit the 'like' button for it: that means a great deal to me.
So, after 300 posts in nearly six years, where do I go from here? What does the future hold for my blog? I don't imagine that I'll change my blogging habits in any perceptible way: I'm not someone who can produce to a schedule and, since I retired and tried to remove stress from my life as far as possible, I imagine that there will still be erratic gaps or, more rarely, very short periods between posts. I don't want to be driven by a clock or a calendar, but at least that means you'll always have that element of surprise when an email notification lands on you! In short, the future for this blog will be more of the same though hopefully not in any boring way! A blogger I respect enormously told me in a comment today that I 'have a fantastic blog.' I'm not sure I deserve that, but I'd like to think that I can in some way inform, entertain and amuse you sufficiently to make you come back for more.
Those of you who, like me, use one of the free WordPress packages will, no doubt, have noticed that Facebook have recently made an 'improvement' which has meant that we can no longer share posts with our Facebook friends. They did this in the name of reducing fake news: frankly, I think removing this facility from those of us with personal blogs is ridiculous, but who am I to question Farcebook in its infinite wisdom? This has, however, prompted me to do something new. So, as you can see from the picture link to the right, I have…. cue fanfare…. started a Facebook page for this blog. I haven't done much with it yet, but the intention is to post pictures, YouTube videos and news links which I hope you'll find interesting and enjoyable, as well as being relevant and complementary to my blog. And, of course, new blog posts will all appear there – Facebook still lets us do that, probably because it gives them the option to bombard us with entreaties to 'boost' our posts. For a fee, of course. Somehow, I don't think I'll be taking up their kind offer! So please, take a look and if you feel in the mood to 'like' the page I'd be very grateful. As I said, there isn't much there yet, but I intend to make it somewhere worth spending a moment or two of your time. I expect I'll be plugging it here a bit, too!
This has turned out to be a much longer post than I intended, so thank you for reading this far! Thank you also for following my blog – assuming that you do, of course – and for bearing with me for however much of the past six years or so that you've been here. Thank you also for all of the likes and comments: it's good to know that so many of you have enjoyed at least a little of what I've been doing, and being a part of the blogging community and sharing those interactions is what really makes it all worthwhile.
See you again soon, I hope 😊
A number of bloggers have recently posted reviews of their blogging year, and how 2018 was for them. I wasn't sure if I should do the same, as I'm far from being the most prolific blogger, and I certainly don't have a massive following or readership. And anyway, I did a kind of 'part way through the year review' when I wrote On Further Reflection so there isn't much point in repeating myself. What those posts have encouraged me to do is to look back behind the headlines of my post statistics and try to analyse what this tells me about my readers and what they prefer – and this does give me the opportunity to give another plug to some of my own favourites from my 2018 ramblings. I've already covered some of the ground in New Beginnings? which I posted on Sunday with a reblog of my review of 2015, so I'll try not to repeat myself more than I already have!
I posted 51 times in 2018, but there was no regular pattern to those: they weren't synchronised weekly offerings with a week off for good behaviour. Both April and August saw just one post each, whilst there were twelve in November and nine in December. So much for giving your readers a regular expectation of when they can see something from you! But, as I've often said (probably to justify this to myself) I don't think of myself as being a significant blogger: I'm not seeking huge numbers, nor am I looking to monetise my blog. Some do, and I don't have a problem with that. But it wouldn't be for me – I wouldn't expect anyone to pay me for what I produce from the deepest recesses of my mind!
I rarely reblog someone else's post: I did that just once in 2018, and that was this one, to assist a fellow blogger in raising money for charity. Call me narrow-minded if you like, but I regard this as my space and want people to come here because they enjoy reading my words. There are plenty of blogs that exist solely to reblog others: there is nothing wrong with that, but are they clear on their motivation? Are they doing it out of the goodness of their hearts and the desire to help others? Or are they doing it so they can bask in the reflected glory of having a blog with loads of page views when they rarely, if ever, write anything themselves? And, if the latter, are they using this to make money for their site? That, to me, is dishonest and not what I regard as true blogging. For me, a blog is where we share something of ourselves, not where we push products at people – and especially not by using others' work as the vehicle.
Having said all of that, I am much more likely to reblog my own posts, or rework older ones into newer versions. My logic in doing that is simple: many of these were written at a time when my follower numbers were smaller, and I doubt that many current followers will have seen these before. I do it because they said something I felt worth sharing again and, in all honesty, because I liked them. I make no excuses for doing this, but I do recognise that there are only so many times that you can mine through your back catalogue without putting people off!
I did produce some new stuff in 2018, though, and it is gratifying to see that five of my top ten most 'liked' posts of all time are from last year, with another one actually equal on 'likes' for 10th place but not showing in the list. I guess I must be doing something right! I realise that hitting the 'like' button is a facility only available to those who, as I do, use WordPress as their blogging platform, so I know that there is not necessarily a link between 'likes' and the actual number of times a post has been read. But it suffices as a reasonably good proxy most of the time, though not always: the post of mine which has actually been read most times – by a distance – dates back to 2017. This was written in support of a friend whose ex-wife's ex-boyfriend (still with me?) had just received a criminal conviction for the most horrible of crimes. My friend is the focus of a group on Twitter and my post was widely shared and read as a result. If you haven't seen He Fought The Law before by all means take a look: it is a little different from anything I've written before, or since.
But let's get back to 2018! I think my favourite post of the year was that one in equal 10th place on the all time list. My 15 Nanoseconds was one I greatly enjoyed writing – it is one of my lighter pieces and I got a laugh out of it. Having said that, it only needs one person to follow that link and hit the 'like' button to move it into 10th place all by itself – which would be something of a pity as the post it currently shares that placing with is one that I regard as among my most important. Maybe I should make that list the top 11 – do you think anyone would notice?
What pleases me most about the popular posts from 2018 is that two of the top five are themed around Mental Health, whilst two others are very personal to me. There are links to all from the list on the right, but to save you having to work it out these posts are I Hope You Dance and For Mother's Day (the two personal ones),  World Mental Health Day 2018  and Mental Health Awareness Week 2018, plus the outlier A Man Blogs, Aged 64 And A Half, which was written in a fit of pique when I felt that the blogging world was becoming sexist and ageist. I probably proved the blogosphere right in believing it should be for females and younger people when I wrote that!
So, what does this tell me about what people expect from my posts, and does it give me any clues for what I should be writing about this coming year? Whilst they may not have garnered the most 'likes,' my musically themed posts are important to me, so you can expect to see more of them. If I can get my act together there may even be some more #SaturdaySongs posts at some point! But let's take this back to the very beginning: as I've often said (though newer readers may not be aware of this) I originally began blogging to share my experience of depression, in the hope that this would help others. It seems to have done that, and I still get the occasional email from people who have read those early posts: they are under 'My Story' in the menu at the top of the page, if you want to see them. Six years on, there is still so much that needs to be done to raise awareness of mental health issues and to help fight the stigmatisation which still, sadly, attaches itself to those of us who suffer. I am acutely aware that my own mental health is precarious and I could find myself in relapse at any time, and I think it is very important that as many people as possible are writing about these issues. Whilst that was my starting point I've never made this a blog solely on mental health: there are many others who do that far better than I. But it is a subject to which I have returned at intervals, and I will continue to do so. Only yesterday there was a piece in the paper about young people's mental health and the problems involved in supporting them, so I believe there is an agenda already there for new posts. I'd like to think my small voice will help in some way, so expect more from me on this.
To end this review, I'd like to thank everyone who has read, liked or commented on any of my posts, either in 2018 or previously. Those interactions are why I and my fellow smaller bloggers do this: if we know that there is someone out there it encourages us to keep going. I don't know how or where you found me, but I'm glad you did. If you're a regular you have my heartfelt thanks for supporting me. If you're new here, I hope you like what you see and will be encouraged to read, like and comment on more of my posts. And a final plug for my Facebook page: all new posts are shared there, along with a #SongOfTheDay and occasional random thoughts and funnies. It's small, but beautifully formed, and I'd love to see you there. Who knows – you may even be encouraged to follow both this blog and the page, if you don't already!
Thank you, as always, for reading, and here's to a great 2019!
As they do each year, the WordPress.com stats 'helper monkeys' prepared a 2015 annual report for this blog. As long as they aren't planning on taking over the writing I can live with that! This is the fourth of these I have now received, having started blogging in late 2012, and it seems right to keep the record updated. I have a number of thoughts for an end of year post, some of which have been prompted by the statistics in this report, but on balance I think it best to make that a separate post, which I will make either today or tomorrow. Watch this space!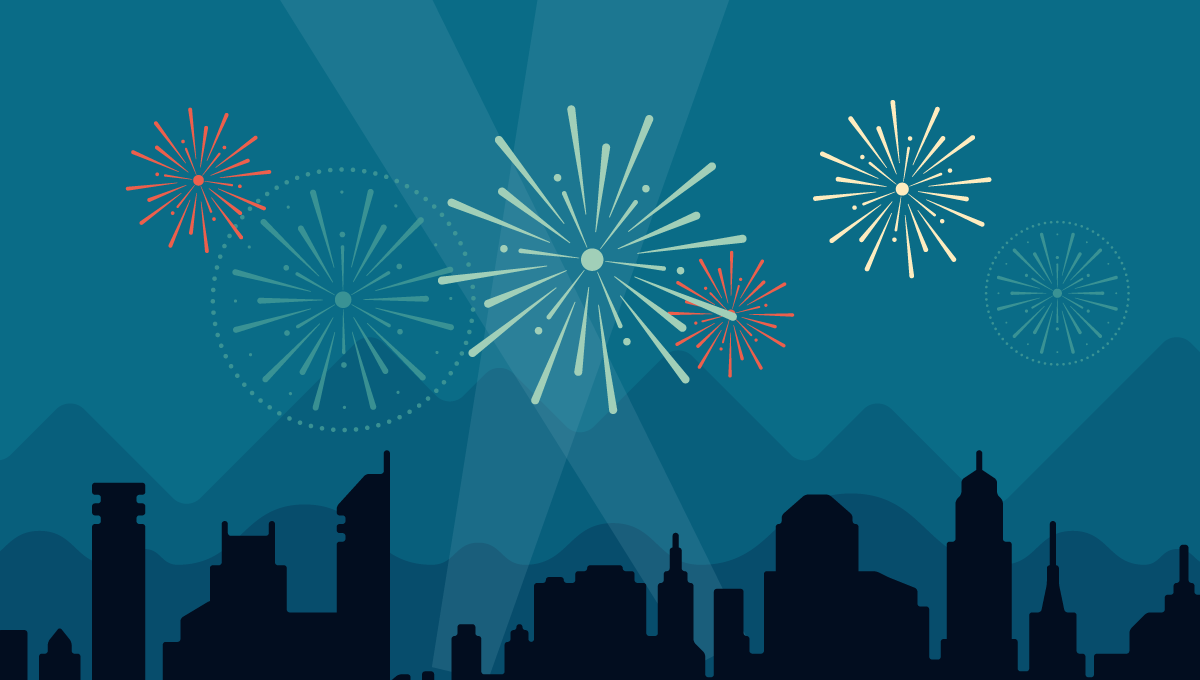 Here's an excerpt:
The concert hall at the Sydney Opera House holds 2,700 people. This blog was viewed about 11,000 times in 2015. If it were a concert at Sydney Opera House, it would take about 4 sold-out performances for that many people to see it.